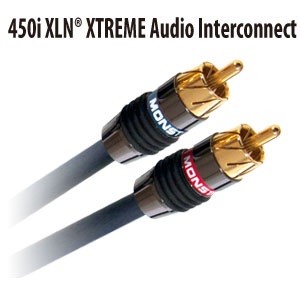 Monster's Most Advanced Technologies Deliver Powerful, Dynamic Sound
Maximize Signal Transfer and Noise Rejection for Audiophile Quality Sound with Superior Sonic Clarity
Ultimate performance audio requires an ultimate performance cable. Monster 450i Series Audio Interconnects feature patented technologies including XLN® Xtreme, PEX™ dielectric and 3-way Time Correct® windings, and 24k Gold Contact 8-Cut Turbine® Connectors for a wider soundstage, pinpoint imaging and precision bass. But Monster performance doesn't stop there. No matter what your system, you'll experience powerful music, movies and gaming audio with maximum sonic clarity and stunning visual appeal.
3-way Time Correct® windings
Separate high, mid and low frequency Oxygen Free Copper wire networks for the smoothest, most natural sound possible.
MicroFiber® Dielectric
Monster's most advanced insulation isolated networks for faster transients and wider dynamic range.
XLN® Xtreme Technology
Provides massive 80dB noise rejection for crystal-clear sound, even at high volumes.
8-Cut Turbine® 24k Gold Connectors
For maximum connectivity, for a wider soundstage, pinpoint imaging and precision bass, optimal corrosion resistance and stunning good looks.
Split-Tip™ Center Pin
For maximum contact pressure and ultra-low signal distortion.
Duraflex® Protective Jacket
Flexible for easier installs, UV stabilized for maximum durability.
Monster 450i XLN® XTREME Audio Interconnect Line-up
MCA 450i-0.5M : 2Channel Audio Interconnect – 0.5m
MCA 450i-1M : 2Channel Audio Interconnect – 1m
MCA 450i-2M : 2Channel Audio Interconnect – 2m
MCA 450i-3M : 2Channel Audio Interconnect – 3m
MCA 450i-4M : 2Channel Audio Interconnect – 4m
MCA 450i-5M : 2Channel Audio Interconnect – 5m
MCA 450i-6M : 2Channel Audio Interconnect – 6m
Specifications
・Cable outer diameter : 9.0mm
・L(ch),R(ch) separated : 200mm
・Plug outer diameter : 13mm