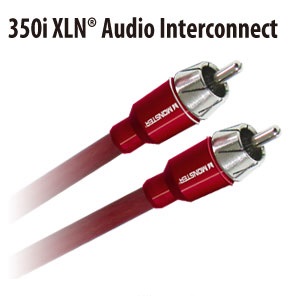 Patented 2-way time correct construction enhances Signal Transfer to Your Amplifier
to improved clarity and accurate reproduction of amplitude and phase response.
Enhance System Performance with Efficient, Low-Noise Signal Transfer for Increased Depth and Clarity
The quality of today's mobile entertainment is better than ever. But interference caused by factory circuits can keep you from enjoying your favorite music, movies and video games. Featuring patented Monster technologies, Monster 350i Series Audio Interconnects enhance signal transfer to your amplifiers for high-quality sound with maximum sonic clarity. 2-way Time Correct® windings separate high and low frequency wire networks for accurate reproduction of amplitude and phase response, while patented Xtra Low Noise™construction provides advanced noise rejection up to 60dB so all you hear is the sound of entertainment.
2-way Time Correct® Windings
Winding process of separate high and low frequency Oxygen Free Copper wire.
Advanced XLN® Construction
Helps provide protection (up to 60dB) against noise producing interference generated in the car environment.
6-Cut Turbine® Polished Nickel Connectors
Future reinforced ground shell and 6 cuts for improved conductivity and a tight fit.
Split-Tip™ Center Pin
For maximum contact pressure and ultra-low signal distortion.
Duraflex® Protective Jacket
Flexible for easier installs, UV stabilized for maximum durability.
Monster 350i XLN® XTREME Audio Interconnect Line-up
MCA 350i-0.5M : 2Channel Audio Interconnect – 0.5m

MCA 350i-1M

: 2Channel Audio Interconnect – 1m

MCA 350i-2M

: 2Channel Audio Interconnect – 2m

MCA 350i-3M

: 2Channel Audio Interconnect – 3m

MCA 350i-4M

: 2Channel Audio Interconnect – 4m

MCA 350i-5M

: 2Channel Audio Interconnect – 5m

MCA 350i-6M

: 2Channel Audio Interconnect – 6m
Specifications
・Outer diameter : 7.5mm
・L(ch),R(ch) separated : 200mm.
・Plug outer diameter : 13.0mm