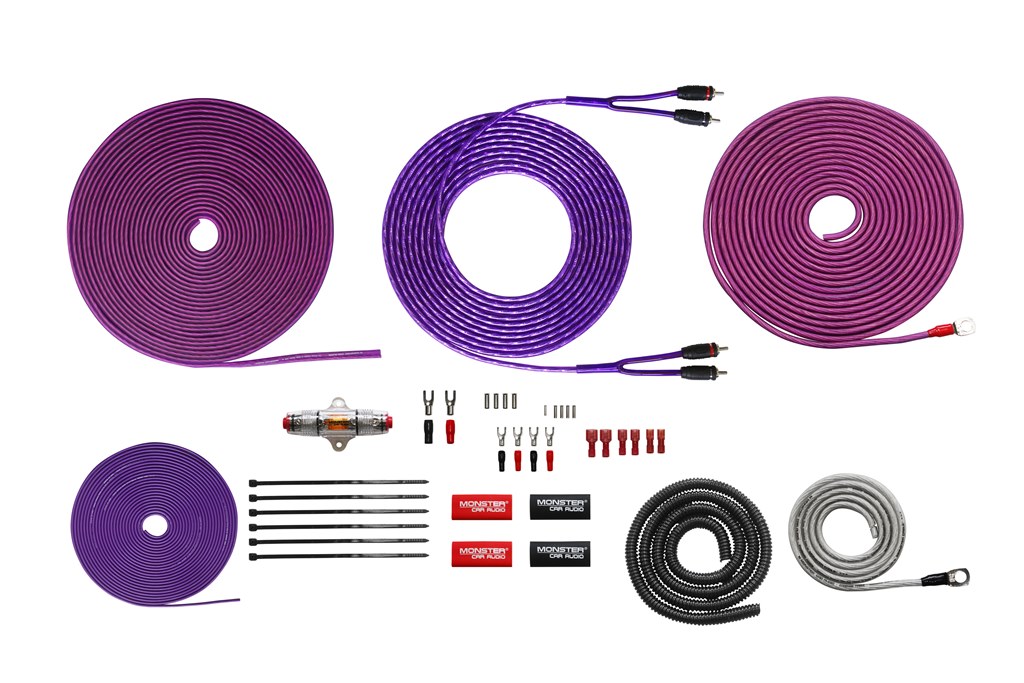 ADVANCED PERFORMANCE AMPLIFIER INSTALL KIT
All-In-One Kit Includes Everything You Need for Advanced Performance Amplifier Power Hookup
10 AWG Monster Standard power cable delivers high-current power to your amplifier
In-line weather-resistant MIDI fuse holder for up to 30 amp current handling
Monster Standard high performance Audio Interconnects increase signal transfer between your head unit and amplifiers
16 AWG Monster Standard speaker cable for increased signal and power transfer from your amplifiers to your speakers
Nickel Finish ring terminals and Crimp Sleeves for increased corrosion resistance
Drive Your Amplifier with High-Current Power Transfer for Crystal-Clear Sound Even at High Volumes
From the thump of house music to the roar of rocket engines, you demand the best sound quality from your mobile entertainment system. But your high-output amplifier needs maximum current transfer to accurately reproduce the high-resolution soundtracks found in today's CDs, DVDs, MP3s, games and other sources while overcoming road noise, especially with the windows down.
Ideal for subwoofer amplifiers, Monster Car Audio BAIP100S Amplifier Power and Signal Installation Kit Includes all the cables, fusing and connections you need for low loss, high-current power transfer to your amplifier. 10 AWG Monster Standard power cable delivers the current your amplifier needs to produce of total power for deeper, tighter bass you can hear and feel.
High Performance Audio Interconnects:18 Feet (5.5m)
Monster Standard high performance Audio Interconnects increase signal transfer between your head unit and amplifiers
16 AWG Monster Standard Speaker Cable: 32.8 Feet(10m)
16 AWG Monster Standard speaker cable for increased signal and power transfer from your amplifiers to your speakers
10 AWG Monster Standard Power Cable: 19.7 Feet(6m)
Features high-purity copper and special winding configuration to help reduce noise pickup and provide low-loss, high-current power transfer for optimal amplifier performance
DuraFlex ® Ultra Flexible jacket
Ultra Flexible for easier installs and maximum durability; resistant to heat, chemical and temperature extremes
Flexible, high-purity copper standing
Lowers resistance for increased current transfer; super-fine stranding bends around corners for easy installation
Colgate tube: 3.3 Feet(1m)
Protect the power cable from the heat of the engine room
10 AWG Monster Standard Ground Cable: 3.3 Feet(1m)
Safety grounds your amplifier to the chassis of your car
18 AWG Monster Remote Turn-On Cable: 19.7 Feet(6m)
Turns your amplifier on/off with your source unit
Monster In-Line Weather Resistant MIDI Fuse Holder with 30 Amp MIDI Fuse
Installs and fuses near the battery to provide protection against dead shorts or when current draw exceeds safe limits
Transparent Polycarbonate Protective Housing
Heat and impact-resistant casing helps protect fuse and power cable connections from short circuits
Set-Screw Design with Nickel Chrome Contact Power Cable Connectors
For secure power cable connections, optimal corrosion resistance and improved current transfer
Secure MIDI Fuse Mounting Collar
Locks fuse firmly in place for a connection that won't vibrate loose
Gasket Rings
Provide a tight, weather-resistant seal
Two Crimpable Monster Nickel Finish Contact 10 AWG Ring Terminals
For corrosion-resistant cable termination at the battery or chassis ground
Two Monster Nickel Finish Contact Amplifier Barrier and Four Mini Spades
For connecting your power, ground and speaker cables to your amplifier; heat shrink and silicone insulators help prevent short circuits and create a clean, finished look
Four Monster Nickel Finish 10 AWG and One 18AWG Crimp Sleeves
For connecting your power, ground and remote turn-on cables to your amplifier
Four Monster Nickel Finish 16 AWG Crimp Sleeves
For connecting your speaker cables to your amplifier
Two L-size and M-size, and Two S-size Faston Female Terminals
For connecting your speaker cables to your Speakers